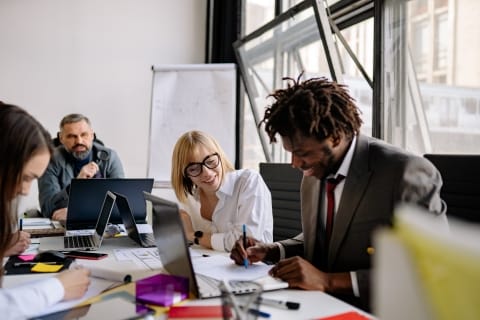 As companies strive to create a people-centric workplace, employee experience is growing as a top priority – and it's an expansive one. While there is not one single definition, the employee experience encapsulates what people encounter and observe over the course of their tenure at an organization including onboarding, development, performance management and ultimately, departure.
Now, couple all those touchpoints with additional considerations for remote, in-person and hybrid environments. It's no wonder that enhancing the employee experience can feel overwhelming, especially for managers who have a lot on their plate!
Still, it is worth taking the time to get it right. Organizations that rank in the top 25% for employee experience see improvements in customer satisfaction, innovation and profitability.
How can you contribute to make the workplace full of more engaging, positive interactions for your team? Start by prioritizing five elements:
Motivate staff with purpose
Create a sense of belonging
Promote a positive mindset
Recognize performance
Nurture growth
#1 Motivate staff with purpose
When employees see that they are making a positive impact in their roles, they tend to be more engaged. As a manager, you can infuse greater meaning into your staff's work in each interaction with your team. Start at onboarding by explaining how their job supports the vision of the organization. In one-on-ones, team meetings and performance reviews, take time to reinforce how the projects that the team and individuals are working on contribute to the success of the company, including its vision, bottom line, day-to-day activities, stakeholders and future.
#2 Create a sense of belonging
To build community, make time to connect without a "business" agenda on at least a quarterly basis. If your group has a Social preference, you may want to get together more frequently! Gather virtually to accommodate hybrid staff, and if you can make periodic in-person events work, that can also boost connection. In addition to team building, find ways, like using Emergenetics®, to celebrate the strengths and perspectives each person brings to your group. Partner with your team to identify when and how you will collaborate with one another to benefit from your different insights. There is so much value in cognitive diversity. When teams appreciate one another for their differences, it can drive innovation and heighten a sense of belonging.

#3 Promote a positive mindset
Positivity can be a powerful ally in nurturing staff wellbeing and the employee experience. Try using strengths-based language in each conversation to create an affirming atmosphere. For example, exchanging words like "I can't" for "I haven't yet" can reframe mindsets and inspire motivation. Be thoughtful about opportunities to adjust what you say to convey positivity. I also recommend that you adopt a team norm to assume positive intent. By defaulting to the belief that people are trying to be helpful when they share information or feedback, it can be easier to take in a message and channel it toward constructive outcomes.
#4 Recognize performance
Cultivating a sense of accomplishment can improve your employees' outlooks. When staff believe they are doing great work and making progress on important initiatives, they often feel more motivated and engaged. Make recognition a habit by including it as part of your team and one-on-one meetings to ensure that your people are being celebrated for their achievements. As you acknowledge individuals, I encourage you to honor the contributions of in-person and remote colleagues. Virtual team members can get inadvertently overlooked if managers are not proactive in their approach.
#5 Nurture growth
Most employees want to expand their skillsets in their chosen field (or a new one that interests them). By prioritizing their development, you can promote a positive workplace environment. Throughout their time in your department, ask your coworkers about what competencies they want to build and find opportunities to support your hybrid teams in developing those skills through webinars, conferences, digital courses or classroom trainings. I also invite you to partner with your Human Resources or Learning & Development teams to create growth plans that support everyone in their learning journey.
While you can't affect every interaction that your people will have at work, as a manager, you still have a lot of influence over the employee experience because of the amount of time you spend with your staff. By prioritizing the recommendations above, you can create a more positive workplace culture where individuals feel connected, engaged and motivated.
Want to learn how you can optimize your team's experience and improve performance? Download The Hybrid Teams Handbook for Managers or fill out the form below to speak with one of our staff members today.

Print This Post